"I wanted my home to be a peaceful and welcoming refuge," says Angie Cavalier, whose elegant, white-on-white home in McKinney, Texas, is an exemplary of refurbished home design.
"As far as decorating goes, I am a huge fan of Rachel Ashwell," Angie says. "She created the whole 'shabby-chic' philosophy that I adhere to. I'm also inspired by nature, and of course my family and friends."
The living room boasts some of Angie's favorite pieces, showcasing her refurbished home design sensibility: "The piece behind the sofa came out of an apothecary in the northeast. I fell in love with it the second I saw it. The corbels on the fireplace mantle are antiques; I had a painter finish the mantel to match them. The fireplace screen is an old window screen that I had feet added to. Then we built the fireplace opening to match the size of the screen."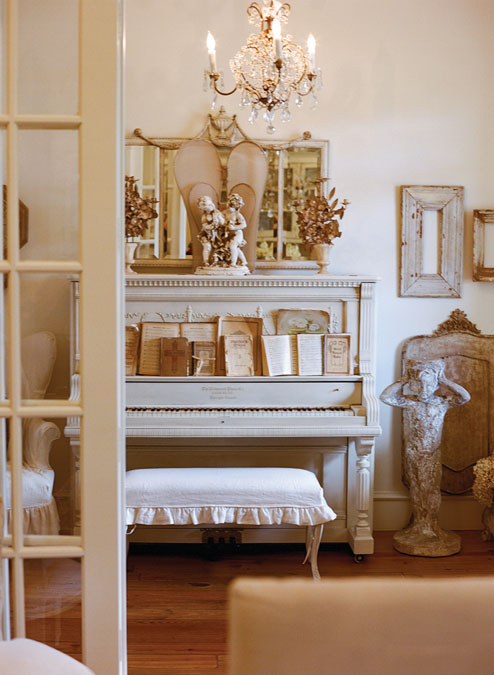 Angie's master bedroom is dream-worthy with its hints of soft color, luxurious bedding and vintage accents. Just looking at the beautiful bed can make one imagine sinking onto the soft linens and cushy pillows, followed by a sigh of relief after a long day.
"I knew that I wanted our bedroom to be serene and calming, so I started with all white and then added the soft, pale green. The bedding is a combination of Bella Notte and Matteo," she says. "And thanks to a down featherbed on top of the mattress and all that white linen, it is as comfortable as it looks!" Though it may look as though it's been around for decades, the bed is actually new. She explains, "The bed is a custom reproduction of an antique bed that I saw in a magazine."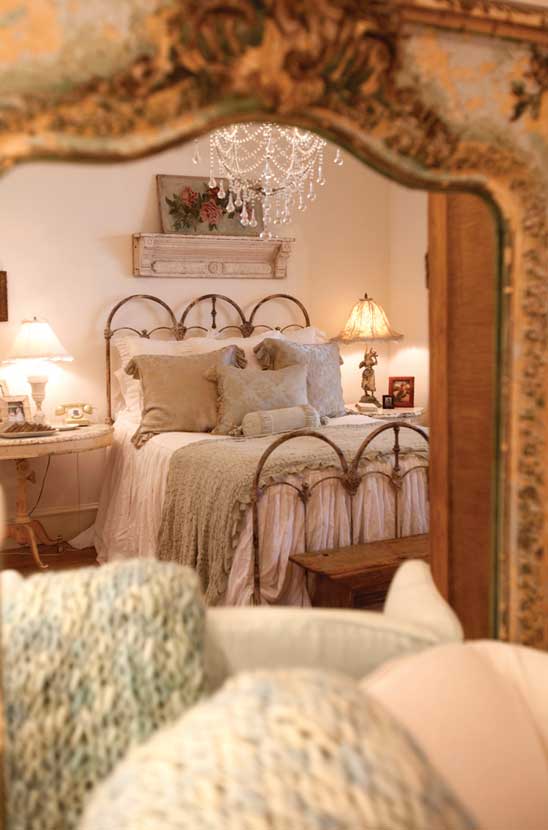 The master bath is a study in understated elegance, with its clawfoot tub and vintage accessories. "The bathroom is one of my favorite spots in the house," Angie says. "I've always loved the look of the slipper-style clawfoot tubs. And if you have the space for it, a nice chair to relax in is a great luxury."
For expert advice about refurbished home design from Angie Cavalier.
Written by Rebecca Ittner
Photographed by Melinda Ortley