Jaimee Itagaki
Despite the constant arrival of new fodder for repair and newly finished projects ready to debut at some spot in her home, Rebecca Bosch's quaint dwelling never looks cluttered. Read on to discover her one simple rule to collecting without cluttering.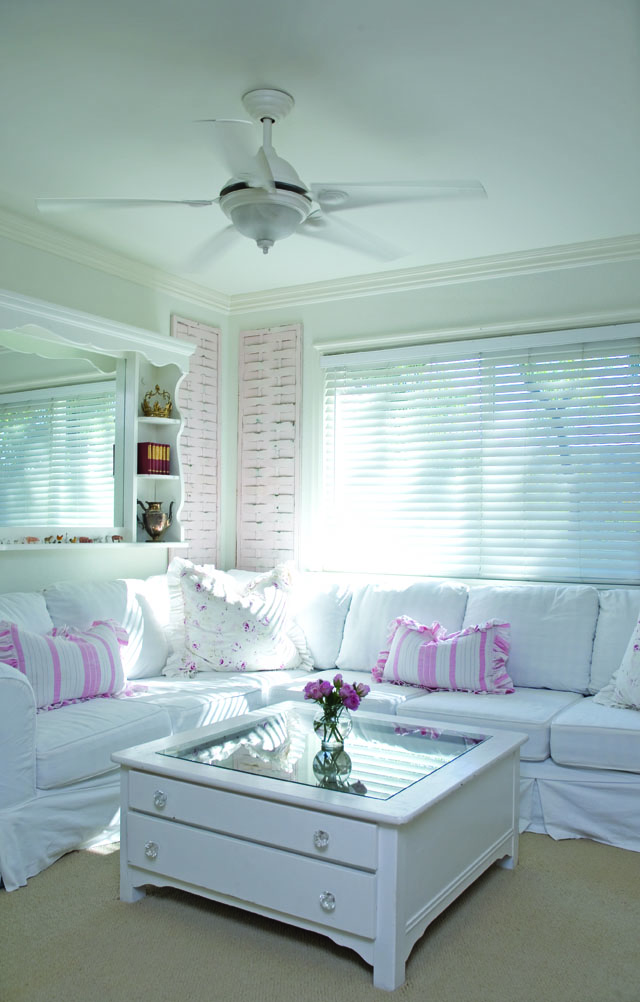 Rebecca never has a shortage of shabby-chic furniture that needs a little TLC. When it comes to finding flea market steals, Rebecca's training as hairstylist gives her an edge over the rest of us. In the same way she can evaluate a client to see past tousles tresses and envision the perfect cut for the right face shape, hair texture and body type, she can spot a castaway and see its potential. "I don't mind working on it to get it where I need it to be," she says. "That is part of the fun. In fact, when I'm done with the project I get sad because I want to keep going."
Her home is filled with bargains, sourced at discount shops and garage sales or acquired for free, like the closet-door mirror that made it to the trash heap before it came to Rebecca's rescue. Chandeliers, passed on by others for the state of their disrepair, are a goldmine for Rebecca; there's not one in her house that didn't begin as a rusty brass monstrosity that she later transformed into delicate, elegant commodities. She also has good relationships with a local carpenter who she often enlists to help her tackle larger, more complicated projects and an affordable upholsterer who can handle any of her requests. This not only helps her get things just right, it also opens up her options, allowing her to bring more potential treasures home.
But what does Rebecca do with all those treasures? How does she keep her house clean and simple without losing the sentimental touches that make up a cozy space? She balances the airy openness of her rooms without sacrificing the special touches that make a room feel personal with her one rule:
When something goes in, something goes out.
"I try to keep only the things that I truly love," Rebecca explains. "If there isn't a spot for something, my philosophy is no to force it to fit. I don't have a hard time getting rid of anything because I am replacing it with something that I love more."
But sometimes, as her husband Brendan can attest, the rules are meant to be broken. On one particular flea market trip, Rebecca happened upon a steal. A seller was offering an oversized slipcovered sectional for a mere hundred dollars. A rare perfect as-is item, she bought it on the spot before Brendan could remind her that the large piece wouldn't fit into their small car. Rebecca wasn't fazed. She ran back into town to rent a U-Haul. The sofa is now a perfect fit in their upstairs loft that they use as a den.
But these days, Rebecca is more careful. "I'm more picky now when I go to flea markets. I make I list, which keeps me on budget and ensures that I don't bring clutter home."
By Jickie Torres
Photographed by Jaimee Itagaki
Styled by Jacqueline deMontravel