When you're creating an outdoor living space, don't get overwhelmed. Think of your yard as an extension of your home; look for ways to adorn the outdoor space with all your wonderful vintage treasures. Special keepsakes and valuable antiques should be safeguarded inside the home, but there are many vintage goodies that can be designated to outdoor living. Step outside your home's walls to look for more ways to express your personal style. Then hit the flea market with a plan, a list and lots of enthusiasm. Let the vintage outdoor decorating begin!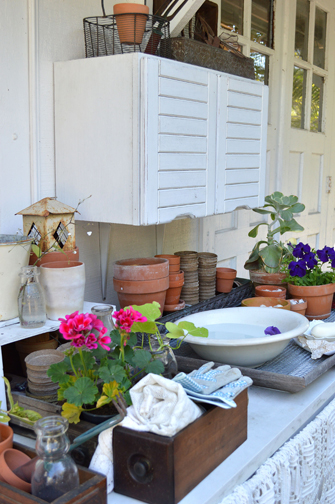 5 Tips for Vintage Outdoor Decorating:
• The staples for vintage décor, both indoors and out, are the desirable trifecta of furnishings, dishware and linens.
• Furnishings and architectural salvage will anchor the design scheme.
• China sets the stage nicely, and linens provide the final embellishments.
• Let your personal style be your design inspiration when searching for treasures.
• Look for inexpensive versions of the items you collect for your home.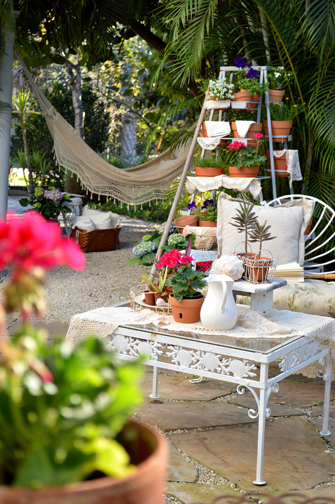 Up your Vintage Outdoor Decorating Game with Lace and Linens
Consider these ways to take vintage linens out of the drawers and all the way into the garden.
• Heavy linens like tea towels have many uses, from table runners to pillow covers.
• When making pillows for outdoor use, first enclose the insert (foam or batting) with heavy plastic or water-resistant material before making the cover. Make the cover removable for easy care.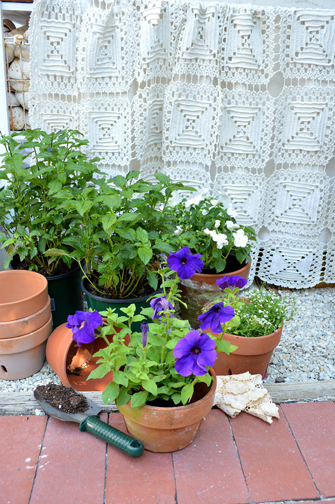 • Discolored linens can be tea-stained. To do so, make a strong batch of tea, soak linens made of natural fibers until they reach your desired color, rinse with clean water and line dry.
• Keep sections of stained or ripped tablecloths for craft projects like lanterns.
• Use your tablecloths, napkins, pillows and blankets for outdoor entertaining.
• Wash your linens regularly by hand or in the gentle cycle, avoid prolonged exposure to full sun and bring them indoors during periods of harsh weather.
Written, styled and photographed by Melinda Graham