Why buy reproductions when you can find handmade originals, worn by a century of use and love? That's the idea behind Recovered Relics, a team of pickers, designers and "rehabilitators" who traipse about ruined New England barns in search of rustic folk treasures made in America. If you've planned a junktiquing trip this 4th of July weekend, consider following their expert advice.
While many of these pieces need some TLC, Recovered Relics alters its finds as little as possible to preserve their authenticity. "We don't restore," says Matthew Billings, the primary picker, buyer and seller at Recovered Relics. "We clean up and repurpose, but we let the pieces tell their own stories."
If you want to start your own collection, you'll have to look beyond flea markets to local farms, small art galleries and auctions. "We buy at country auctions and usually do well," Matthew says. "It is sometimes hit or miss; and it's harder to resell items bought at auction because you typically pay gavel price in addition to the buyer's premium and state tax."
Whether you love whirligigs or antique tin candy chests, here are eight great pieces to get your American-made antiques collection started.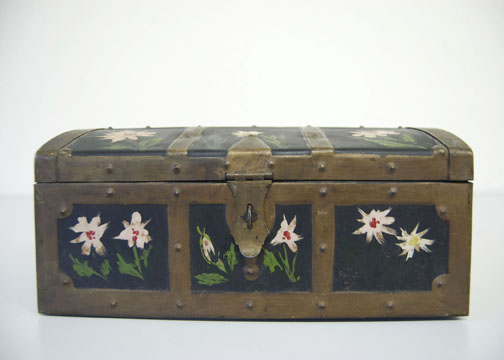 What: A Toleware chest, hand-painted by a folk artist (above)
Where: Found "filled with whatnot at a farm in Mount Holly, Vermont."
Cost: $15
Care: "It was in immaculate condition and only required a quick wipe with a damp cloth," Matthew says.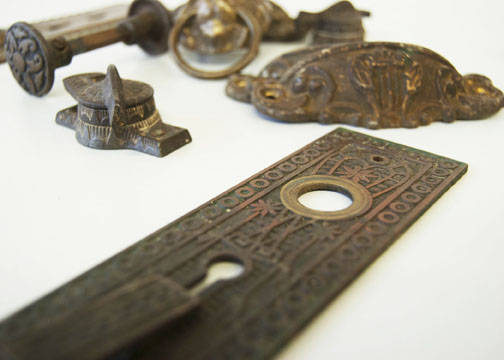 What: Antique Eastlake hardware made of brass
Where: "We buy it wherever and whenever we see it," Matthew says. "Eastlake hardware is particularly desirable for collectors."
Care: "Be very careful when cleaning found hardware," Matthew advises. "If it is made of brass, be very careful not to remove the patina. Stripped brass is almost completely devalued because it looks terrible."
What: Farmhouse kitchen storage containers, original from a farm near Jamaica, Vermont
Where: Purchased at the Townshend Auction Gallery in Townshend, Vermont.
Cost: $25; "Primitive country pieces with paint or graphics typically perform well in the resale market," Matthew notes.
Care: "Warm water with a little dish-washing liquid was all that was needed to clean these—nothing harsh."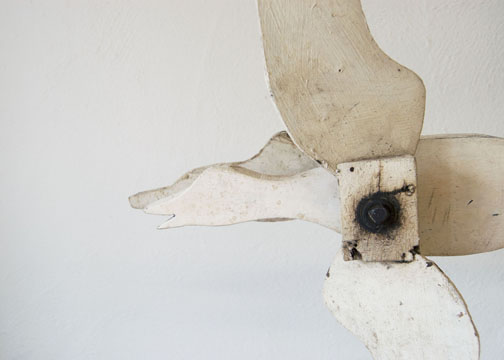 What: Farm whirligig, made by a farmer in the 1930s; "The white-painted duck spins freely and has a small piece of copper tube inserted on the underside so it can be mounted and used," Matthew says. "It was used on the farm when it was active from the late 1870s through the 1950s."
Where: Found "in an outbuilding owned by a family friend in Newfane, Vermont.
Cost: $5
Care: Dust and dirt was washed away with warm, soapy water.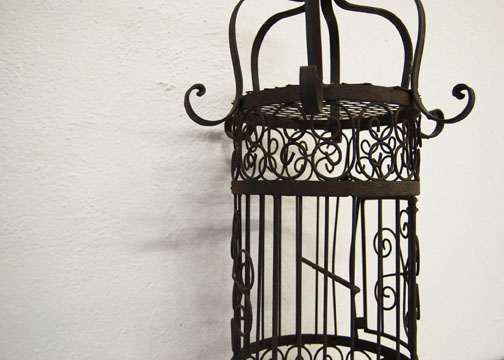 What: Antique Victorian birdcage made of wrought iron
Where: Found in the attic of a farmhouse in Wordsboro, Vermont. "The owner was 85, and the cage had belonged to her mother," Matthew recalls. "She really loved it and wanted someone else to take care of it."
Cost: $30
Care: "We've done nothing to it other than wire brush the loose paint," Matthew says.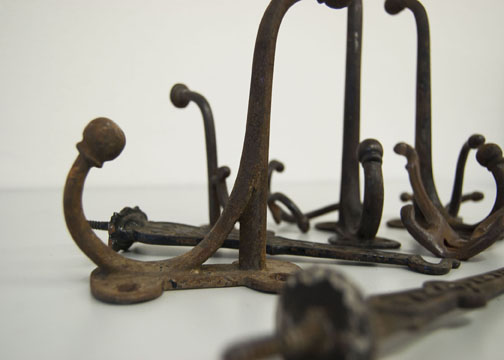 What: Antique cast-iron hangers and hooks. "We always purchase good cast iron when we see it," Matthew says.
Where: "We find these pieces in sheds, barns or in old farmhouses."
Cost: From $0.25 to $5.
Care: "Clean them with a wire brush and wipe on a little vegetable oil to finish."
Written by Elaine K. Phillips
Photography by Danielle DePalma of Recovered Relics