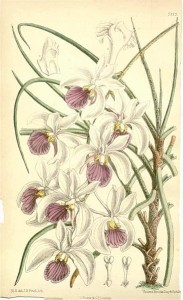 A surprisingly affordable way to bring the beauty of the outdoors into your decor.
Are the dregs of winter getting you down? Spring can come a little early for you if you bring the greenery and colorful blooms of vintage botanical prints into your decor.
A botanical print is a detailed drawing, often in color, showing the stems, leaves, flowers and fruits of a plant. Such prints can show the details of a plant much more accurately than mere words or even modern photographs.
Since the advent of printing and even before, books have contained pictures of plants, but the art of botanical illustration didn't fully flower until the eighteenth-century when improvements in printing technology rendered the pictures more beautiful than ever before. Books containing such prints were very popular because amateur botanists and gardeners wanted to learn more about the strange plants that explorers were finding all over the world.
Where to Get Them …
Over the years, many books containing these prints have been disassembled and the prints have become available as single sheets. Although some botanical prints are quite pricey because of their age, quality, or both, you can find botanical prints for a little as $10 at flea markets or at sites like etsy or ebay.One source of affordable botanical prints is pages from Curtis's Botanical Magazine, which was first published in England in 1787 and continued through 1948. The magazine's high-quality illustrations were very popular, which makes them fairly easy to find today.
Display Ideas for Vintage Botanical Prints
Frame them and group them into wall or mantel displays.
String them along the mantelpiece for a summertime display.
Arrange them under the glass of a glass-topped table. Use matting in a stark white or complementary color to set them off.
Collect and display plants associated with the place you live or a place you love to visit.
—By Erin Masercola